If you want to become a security guard in Ontario, you should start by finding a good security training course. If you're already licensed in another province, you may be exempt from the training and test, but the specifics will vary from one province to the next. If you're not a Canadian citizen, you will almost certainly have to complete both the Ontario security training and the test before you can become a security guard in Ontario. The first step is to find a good course, but you'll also need to decide what kind of license you want.
Course length
To become a security guard in Ontario, you must complete a security training course. This program requires 40 hours of study and includes four tests that contain 60 multiple choice questions. The course covers the act and the Ministry code of conduct, as well as an introduction to the basic security training. It also includes self-quizzes to test your knowledge.
Depending on your preferred format, you can complete the training online or in a classroom. Online training programs allow you to keep track of your progress and print your security licence after you complete the course. For more information, visit the ministry of labour website. The website has information about training providers in your local area.
Depending on your training course, you may also need to complete a mandatory Emergency Level First Aid and CPR training component. This 8-hour training course is available in Toronto, Ottawa, Durham, London, and Scarborough. Choosing an online program is also an option if you have previous First Aid Certification.
Job duties
If you're interested in a career in security, there are many different types of training and licenses available. Security guards are responsible for a variety of duties, including maintaining site security, monitoring CCTV cameras, following up on issues, directing traffic, and handling medical emergencies. These jobs require a lot of communication. Security guards often contact Ontario EMS or local law enforcement when something goes wrong.
Security guards are also required to abide by the PSISA Code of Conduct and the Human Rights Code of Ontario. These laws protect the rights of all citizens, including those with disabilities. As such, security guards must be knowledgeable about these laws and ensure that they provide the best service possible. Further, security guards must understand how to use force and keep their composure in emergency situations.
During training, security guards should also understand how the criminal justice system works in Canada. As such, they should be familiar with the Criminal Court System and the Ontario Evidence Act. This is crucial in ensuring that any information obtained is admissible in court. They must also understand the differences between federal, provincial, and municipal law.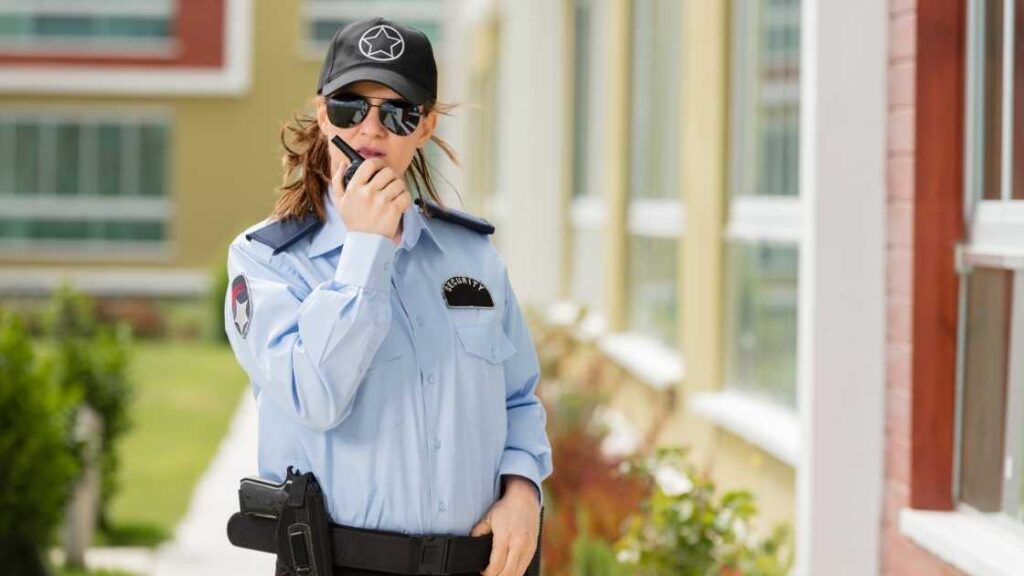 Requirements for a security guard license
In order to become a security guard in Ontario, you must be at least eighteen years old, a Canadian citizen, a permanent resident or a temporary foreign worker with a valid working visa, and have a clean criminal history. You can obtain your license through the Ministry of Community Safety and Correctional Services. You must also present a photo and proof of training completion. The Ministry also requires that you submit a guarantor information form.
The application process is simple. You can submit your application online or by mail. However, you must have at least two copies of government identification with you. It is also important to have good English speaking and writing skills. Lastly, you need to take a security guard training course approved by Service Ontario. There is a list of approved training providers in Ontario.
To become a security guard in Ontario, you must complete a 40-hour Ministry-approved training course. This training course will teach you the skills and knowledge that you will need to pass the ministry's exam. The program will cover a number of topics and can be delivered in a classroom or online format.
First aid and CPR training
There are several different courses available in the province that cover first aid and CPR for security. Getting your training from the Canadian Red Cross is a great way to make sure that you are well-prepared for any emergency. You'll learn everything from how to react in an emergency to how to prevent it. You'll also learn how to use a defibrillator, take the temperature of the forehead, and perform CPR.
If you're thinking of getting your security guard license in Ontario, you should consider getting certified in First Aid and CPR. You can complete the course either in one full day of class or through a blended program that is four hours online and four hours in a classroom. You'll learn how to administer first aid and CPR to people of all ages, as well as how to prevent disease transmission. The course also teaches you to use an Automated External Defibrillator, which is a life-saving machine.
Emergency First Aid and CPR training is essential for security guards and security employees. This is not only important for security licenses in Ontario, but it's also required by law. If you're working as a security guard, you must complete Emergency Level First Aid and CPR training.